Regardless of what your upcoming project will consist of, chances are that you will be in need of quality land clearing services. Proper site preparation dictates that clearing should be done be effectively and comprehensively to help maintain the best possible outcome once the project is underway. R.W. Excavation is proud to be your go-to excavation company in Allyn, providing a myriad of construction services to the Pacific Northwest. Our commitment to quality and integrity in everything we do helps to make R.W. Excavation a top choice for excavation construction. Our experienced team is ready to take on anything you need to get the job done right, from demolition to landscaping and driveway installations. Today, we'll preview a few land clearing services that can help prepare your site for a smooth, efficient build.
What is Land Clearing?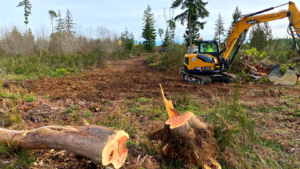 In general terms, the act of site preparation includes manually removing any natural or artificial obstacles that can impede the excavation and subsequent construction of a structure. In other applications, land clearing services are performed for natural resource conservation in addition to land adjustments to suit the owner's needs. If site preparation at this stage is not done fully, the risk arises of future problems that can create safety hazards as well as frustrating setbacks. Quality and consistency are keywords for land clearing, where you can rely on a qualified excavation contractor to deliver the ideal results regardless of the terrain conditions. A few of our services in this endeavor include:
Brush removal. Excess levels of this prolific vegetation can leave your site overgrown and impassable. Our removal experts will help to clear out these unmanageable zones to create clear, clean acreage.
Tree clearing. Trees in our neck of the woods (pun half-intended) tend to thrive thanks to optimal moisture conditions. The process of tree removal can be labor-intensive and dangerous, necessitating the need for an experienced crew.
Stump removal. Whether you recently felled that dangerous tree or the previous occupants did, stumps can create a major tactical challenge for developers and contractors alike. R.W. Excavation is here to lend a hand, taking care of stump recovery or removals as needed.
Erosion control. Once all of the debris and vegetation is cleared from your land, it's important to find an expert to help with erosion control. This practice aims to effectively handle surface runoff in order to prevent soil loss, flooding, water pollution, and so on.
Grading. While we are technically in the site preparation phase after clearing the site, it's still crucial to begin grading the subgrade. This task is done to create a level base, or at least one that meets the designed slope and angle for optimal results.
Fill import/export. Being able to bring in more soil as needed or take out the excess piles is a major part of the land clearing process. It'll be hard to get your crews and equipment onto the site if stockpiles are everywhere, creating major inconveniences and safety hazards for everyone involved.

Land Clearing for Every Application
There are varying situations in where experience is the key to success. Having a professional team on staff to work in varying conditions for different applications is essential for laying the groundwork for the site. R.W. Excavation is here to take on Allyn projects of all types, from residential and commercial structures to road construction and more.
Versatility is one reason why we're a favorite amongst clients. If your project requires land clearing and foundation excavation services, our company is here and ready to help! By serving with integrity and respect, our crew is able to deliver superior customer service at every stage of construction. If you have an upcoming project, feel free to contact us today!